Protect Your Gutters with Our High-Quality Leaf Guards
Dealing with gutter clogs caused by leaves and other debris can be a hassle. It not only leads to water damage in your home but also requires regular maintenance and cleaning. But what if you could significantly reduce these concerns? With CityPro Aluminum, you can. We offer professional leaf guard installations throughout Toronto and the Greater Toronto Area (GTA) to help protect your gutters and ease your maintenance worries.
CityPro Aluminum is an authorized Alu-Rex installer
Request a free quote
Experienced Professionals
With over 25 years in the business, CityPro Aluminum has the expertise to install leaf guards on various gutter systems. Our team is skilled, knowledgeable, and ready to meet your needs with precision and care.
Quality Leaf Guards
We use only high-quality leaf guards that offer superior protection against leaves and debris. They are durable and designed to withstand the harsh Toronto weather, ensuring your gutters remain clean and functional.
Excellent Customer Service
Your satisfaction is our top priority. From your initial inquiry to the completion of the installation, we ensure a seamless and enjoyable experience.
Great attention to every single detail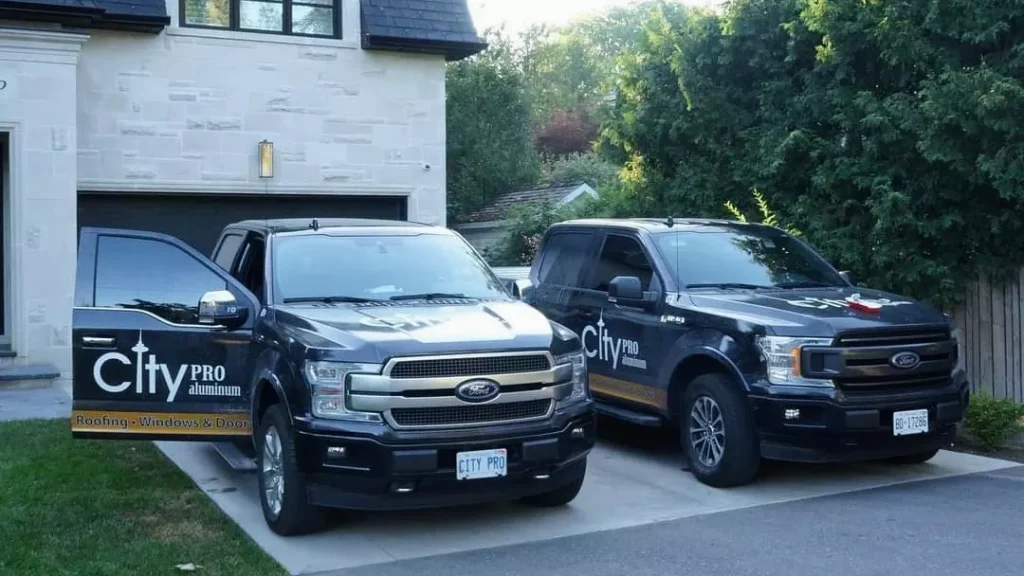 What are Leaf Guards?
Leaf guards, also known as gutter guards, are devices installed over gutters to prevent leaves and debris from clogging them while allowing water to flow freely. These guards can greatly reduce the frequency of gutter cleanings and protect your home from potential water damage caused by overflowing gutters.
Request a free Leafguard quote
Our work and craftsmanship is backed by thousands of Toronto customers
Debbie

Eavestroughs in Toronto

"They operated like a well-oiled machine and got the job done quickly and efficiently leaving a completely clean site behind them. The new black eavestroughs look great. When I look up, I can't believe it's my house."
Jason Ross

Toronto

"Their price was fair for the quality of work and their attention for the details that others might cut corners on to save time."
Rafal

Mississauga

"They worked alongside our roofers and electrician making sure everything was prepared and done perfectly before they started the aluminum and siding work with zero issues. We requested some changes to certain things along the way and those were done without any hesitation."
Tom

Etobicoke

"I'm not expert enough to properly judge materials etc. but the result seemed good to us, and they certainly went to an effort to make we were happy with their service - I guess that's why they have such a good rating."
John

Siding Project in Toronto

"Since I was renovating my home, several visits were required in dealing with the different stages of this project. They were always on time, extremely kind and experienced. I am very happy with their work, choices of materials and final product."
Daniel

Soffits, eavestroughs and fascia project

"Dorian and his crew were recommended by a neighbour. Looking at their house, the quality of the workmanship was clear and my neighbour said it was a pleasure working with them. And now that my soffits, eavestroughs and fascia have all been replaced by CityPro, I can say the same."
Zhavera

Toronto

"When I look up at my home I smile. Someone actually came along that respects his work and his client. Worth every bit of the cost."
Frequently Asked Questions
Yes, leaf guards can significantly reduce the amount of debris that enters your gutters, making them easier to maintain and less prone to clogs. They are especially useful in areas with heavy foliage or during seasons when leaves are prone to falling.
A: While leaf guards can dramatically reduce the amount of debris that enters your gutters, smaller particles like pine needles and tiny seeds may still get through. However, these are generally easier to flush out during routine gutter cleaning.
Leaf guards can typically be installed on existing gutters, making them a cost-effective solution for preventing clogs. During our consultation, we will evaluate the condition of your gutters to ensure they are suitable for leaf guard installation.
Ready to Protect Your Gutters with CityPro Aluminum?
Avoid the hassle of frequently cleaning your gutters and the potential damage caused by clogs. Contact CityPro Aluminum today for professional leaf guard installation. Our team is ready to provide you with the best solution to keep your gutters clean and functioning properly. Don't wait – safeguard your home with our quality leaf guards now!